Thoughts about all things automotiveMore recent Car Musings can be foundhere.
Car Predictions – Then and Now:At the end of 2004, this then-new blog madeeleven predictions for 2035, including three about car marques:
Buick will introduce a new model in still-another attempt to capture a more youthful audience. Seeks to portray itself as aspirational, yet attainable.
Well, here we are eight years later and the Buick brand, despite many new models introduced since 04, still struggles to be aspirational to anyone under age 80.
In the mid-1970s, one of my work colleagues had saved his money and paid cash for his personal dream car – a new Buick Electra 225. I congratulated him and told him that the good news was that he now qualified to join the Deuce and a Quarter Club.
That bad news was that he would be the only white guy in the organization and, since the all othermembers were drug dealers and/or pimpsand were packing heat, he should be armed if he planned to attend a club meet or event. I dont think he ever bought another Buick.
Happy Fun Motor Manufacture of Guangzhou purchases the rights to the Pontiac nameplate. The Chinese firm has had surprising success reviving obsolete, cast-off American car nameplates, including Oakland, Studebaker, Mercury and others.
The company plans to position Pontiac above its Oldsmobile models, just below its two luxury brands, Packard and Lincoln.
In 2004, few people were predicting that GM would kill off Pontiac. But bankruptcy will do strange things to ya. Just ask Saturn. As for Mercury – well, everyone saw that coming, although it outlasted Pontiac.
And Lincoln? The verdicts still out on that brand although the new 2013/2014 models dont seem to be the Game Changers that FoMoCo promised they would be.
DaimlerChryslerHindustan suffers another of its twice-every-decade, near-death experiences – despite the success of its Plymouth Tandoori sports coupe in East Asia.
Who knew that by 2009, Chrysler would be owned by Fiat? Will Chrysler-Fiat survive in the long haul? Beats me, although the resurrected, ber-hyped Dodge Dart looks like a flop, selling at 1/6th the rate of the similarly-sized Honda Civic. And the tired Mini handily outsells the still-newish Fiat 500. Nevertheless, the Indian economy is rising and theres always a market for crap cars over there, so Im not ready to give up on that Plymouth Tandoori just yet.
How will 2035reallyturn out? I have no idea. Just look at how the radically auto industry has changed just over the past eight years.(posted 12/28/12,permalink)
Small Future:Designer Richard H. Arbib had a fairly broad automobile design resume, having worked for GMs Harley Earl and, later, creating the 1952 Packard Pan Am show car which was the inspiration for the productionPackard Caribbean.
In the mid-1950s, Arbib dusted off his crystal ball and designed the car of 2000: the Astra-Gnome, which made its debut at the New York International Automobile Show in New York in April 1956. That same year, the vehicle made the cover ofNewsweek.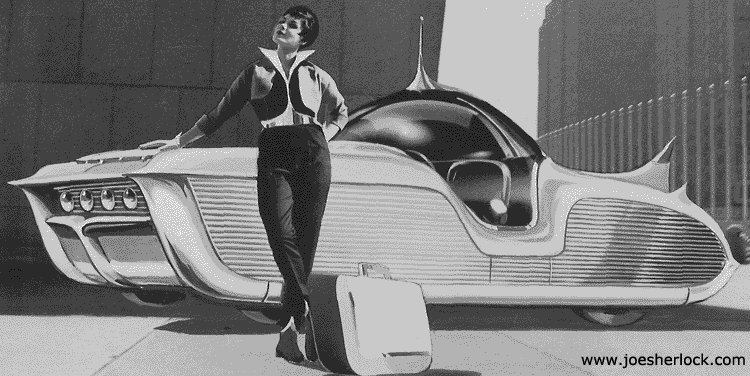 The then-futuristic car was based on the tiny Nash Metropolitan. The Astra-Gnome had fluted aluminum side panels that had been anodized in different blending colors. It had a formed Plexiglas bubble canopy that provided unobstructed vision but could be raised for entry and exit.
Arbib referred to it as a Time-and-Space car and commented that his designers are not concerned with high horsepower or competition car performance, because as product stylists we do not believe the primary task of the appearance designer is a mechanical one.
We believe our job is to create new and exciting shapes, textures and colors in a functional car. In the Gnome, a totally new driving sensation akin to flying has resulted from this kind of esthetic exploration. The Space element in the Astra-Gnome is almost self-explanatory, for the designer of the personal car is dealing with a space problem from the very beginning.
The six-foot wide Gnome, because it is wider than most cars of its length (13.5 feet), gives abundant interior room and allows for a phenomenal amount of storage and luggage area. By careful workout, a production version of this car can carry no less than 6 pieces of matched integrated luggage, totaling as many cubic feet as found in the average full-size sedans trunk compartment.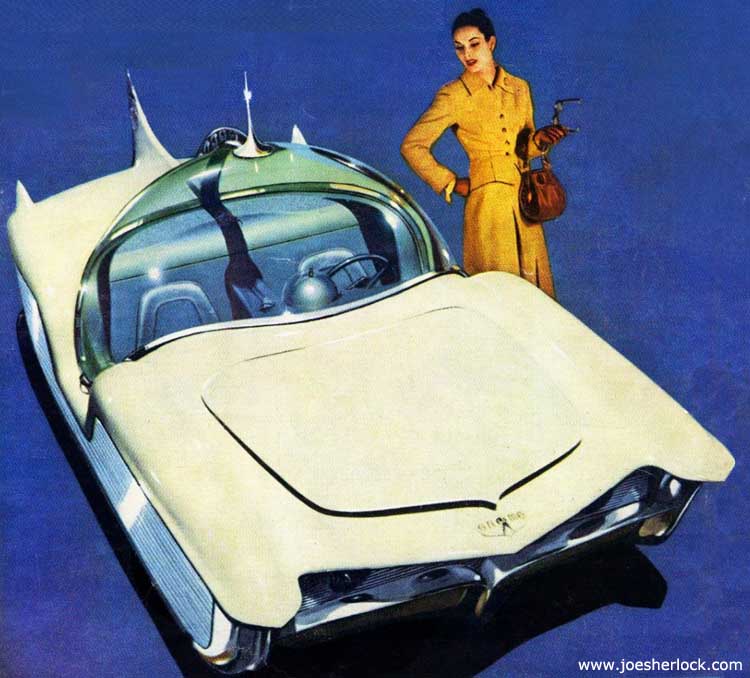 Arbib had an interesting career. In addition to his automotive creations, he designed dirigibles and timepieces including the iconic Hamilton Ventura watch of the 1950s. He also produced cover illustrations for sci-fi magazines and dated legendary pin-up Bettie Page.
The cars of 2000 didnt end up looking much like the Astra-Gnome, although the original still exists. It has been restored and is on display at the Metropolitan Museum in North Hollywood, CA.When it came to future cars, Arbib was no better other prognosticators.
Most predictionsturn out wrong. When I was growing up, magazines likePopular Mechanics, Mechanix IllustratedandPopular Sciencepredicted that tires and roads would soon be obsolete and well get around in flying cars.Such stories were profusely illustrated; the renderings often appeared in full color on the cover to help boost newsstand sales. The skies were always clear blue with nary a belching smokestack in sight. (Perhaps the illustrators were prescient enough to realize that, in the future, factories would disappear because everything would be manufactured in China.) Sometimes the flying cars were piloted by silver robots with red eyes. Occasionally flying semis and buses would be visible in the background.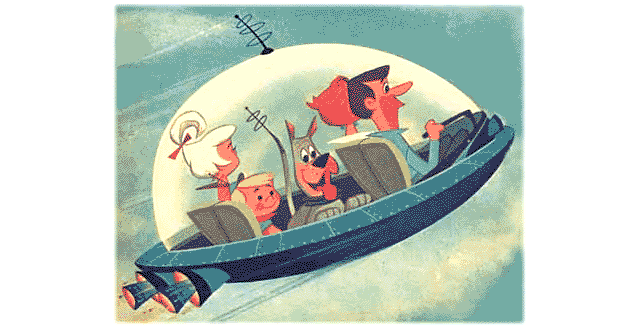 As a youngster, I was promised Social Security in my old age. As a 12 year-old, I could have cared less. As I grew older, I was told over and over that Social Security was in trouble, bankrupt and/or on the brink of collapse. I made other financial plans just in case and was pleasantly surprised when I actually started getting SS payments. Thats the kind of surprise I like: give me something I wasnt really expecting.
On the other hand, if you promise me something and I dont receive it, I become frustrated. So, Im now peeved that I cant buy a flying car. No one ever told me that aerocars were in trouble or that the entire concept was on the brink of collapse.. Those damn cover illustrations were so nice, too. And most of those flying vehicles had cool transparent dome roofs – just like the Astra-Gnome.
Never mind that Plexiglas acrylic was far more expensive than glass, that it scratched very easily and that the forming process for making those domed roofs would thin out the material at the top – the very spot where strength was most needed. Sitting in a parked car in the California sun, an acrylic canopy would have you fry and die of heat stroke in about four minutes. None of this stopped the press from predicting that all cars would soon havetransparent Plexiglas bubblesfor all-around driver visibility.
Speaking of domes, we were also told that wed soon live in domed cities with climate control and our second car would be a small commuter helicopter. With a bubble windshield/canopy, of course. Our homes would have central courtyards covered with a transparent plastic hemisphere to keep the weather out, help the plants grow and allow our robot servants to recharge their solar batteries. Clear plastic bubbles would permeate our lives. Wed be part of a bubble nation living an a bubble-based economy.
The Doming of America reached its peak with the introduction of the Cone of Silence on Get Smart in 1965. The bubble economy collapsed shortly thereafter. And, apparently, so did the idea of flying cars.
Im now convinced that there are no flying cars in my future. The closest I came to owning a car with a clear roof was my1992 Nissan 300ZXwhich had a T-top with glass inserts.
All things considered, Im inclined to cut Mr. Arbib some slack. Neither he nor any other futurist foresaw that, in the 21st Century, one of the largest-selling vehicle segments would be trucks and that wed be driving unsleek four-wheel drive vehicles with blunt Mad-Max-like front ends.
The future is a tricky place, neither linear nor particularly predictable.(posted 11/26/12,permalink)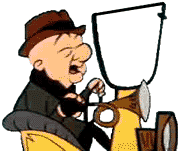 , Pat Goss warned about the dangers of bad fuel. What danger? The last time I encountered a problem with subpar pump gas was almost fifty years ago.
In his best scary, boogeymans-gonna-get-ya voice, Goss warned that problems can occur when patronizing low-volume gas stations. Huh? No such animals exist around here. So many stations have closed over the past 20 years that only the volume guys remain. With convenience stores attached instead of repair bays. The old shade tree mechanic who fixed your car in a ramshackle building and pumped a little gas on the side is an apparition of ghostly nostalgia from the past.
WhenMotorWeekdebuted 30-plus years ago on public television, Goss used to talk about work you could do on your own vehicle in your driveway. Or on the road, if you broke down. Life has changed. There are no longer carbs to adjust, points to gap or hand-tweakable distributors. Therefore, the Goss Garage segment has run out of useful things to say.
Lets face it: if your car breaks down these days, the only tools you need in your vehicle are charged cell phone, a valid AAA membership and a bottle of wine with a screw top – to consume while youre waiting for the tow truck to arrive.
And, furthermore, just when I thought theMotorWeektech tip portion couldnt get any worse, Pat Goss devoted the entire segment to funnels.He said – as best as I can recall,If you dont use a funnel, you may end up spilling oil in your engine compartment and make a big mess. Me? No, maybe you Pat.
Where to begin? Lets start by noting that metal oil cans have been replaced by plastic oil bottles which are easier to control and less likely to spill.Secondly, most contemporary vehicle engines have easy to access oil filler caps/holes/pipes, further reducing spillage potential.
Finally, if the filler pipe location dictates the use of a funnel, the smartest choice is a disposable paper one. Keeping old metal or plastic funnels around makes little sense. They are oily dirt/dust collectors which enable the transfer of dirt to your engine oil. Thats a funnel full of Not Good.
The Goss Garage segment truly has run out of useful things to say.(posted 11/21/12,permalink)
Chickmobile:The Volkswagen New Beetle, introduced in the late 1990s, was a cartoon parody of the Real Beetle. I speak from experience, havingowned several air-cooled Type 1s.
In the U.S., the New Beetle was soon tagged as a chick car because so many were purchased by females. When the car was revamped for 2012, it was given a butched-up, chopped-top look. Volkswagen wanted to increase its appeal to the male market segment.
I finally spotted the latest iteration of the New Beetle on the road last week. It was a baby blue color and was being driven by a middle-aged woman. So much for the macho factor.(posted 11/19/12,permalink)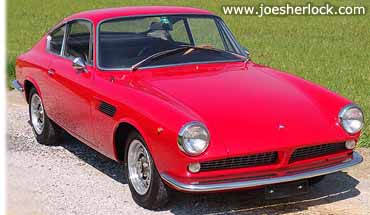 has listeda 1965 ASA 1000 GT for sale at an asking price of over $100,000.
What!? Youve never heard of an ASA? I have. In fact, I considered buying one after I graduated from college.
ASA – Autocostruzioni Societ per Azioni – was an Italian automobile manufacturer. Its primary product, the 1000 GT, was developed by Giotto Bizzarrini from a Ferrari design and was made between 1964 and 69.
It was a very cool, small sports car powered by a Ferrari-designed 1000 cc high-revving four-cylinder engine. The diminutive 153-inch long coupe model had a steel body with aluminum used for the hood and trunk lid.
The silver example I examined in the showroom looked like a miniature Ferrari but, with a price tag over $5,000 and the ever-questionable Italian reliability factor, I passed on it – opting to purchase aused Corvetteinstead.(posted 11/13/12,permalink)
Lancia Death Watch:The iconic Lancia automobile brand seems to be headed down the same hole asMercury. AndPontiac. New, unique models are long gone and the brand is almost nonexistent outside Italy. Theplanis for most Lancias to be nothing more than rebadged Chryslers.
Founded in 1906, Lancia has a long tradition of producing fast touring, sports and racing cars. Memorable ones, too – like the Lancia Aurelia luxury touring car of the 1950s and its successor, the Flaminia. Or the Stratos and the ultra-wedgyStratos HF concept car. And even the ill-fated,mid-engined Scorpion of the 1970s. But thats the past. Todays European market is plagued by too much manufacturing capacity and too many brands – far more than in the U.S.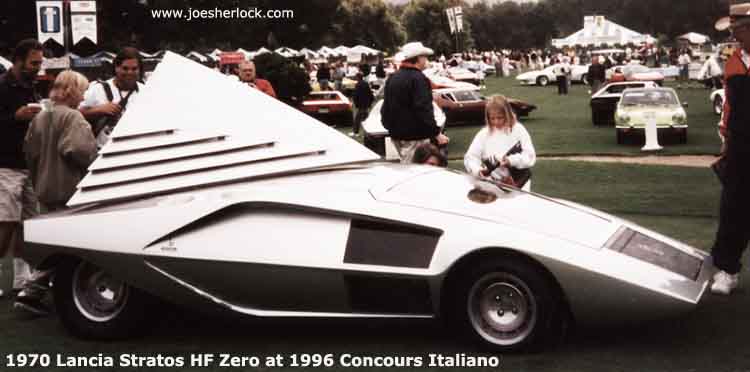 While the U.S. has seen difficult economic times, we are recovering – albeit at a snails pace. Europe is in much worse shape. Unemployment isvery high- the broad unemployment rate (including those inactive job-seekers willing to work) is 30% in Spain, 23% in Italy, 20% in Ireland and 15% in Great Britain. Things are not expected to improve anytime soon due to Europes underlying structural problems (aging native population, socialist policies, welfare states, excessive business regulation, jobs outsourced to Asia, European Union issues, inability to compete in global markets, etc.).
European car sales are near low levels not seen in two decades – car sales are expected to be less 12 million units annually for 2013.
Hilton Holloway of the UK buff magazine,Autocar,wrote, First off, most established brands will never be revived or significantly grown. Rover and Saab proved that, short-term blips aside, by never consistently rising above their long-term average annual sales. Jaguar is in the same position, as is Lancia.
Holloway concluded, The European car industry is approaching the abyss and conventional thinking is steering it straight down the hole. I have no doubt that its all over for the mainstream European car industry that we have today. Its time for both the manufacturers and punters to go back to basics, starting with simpler cars made in fewer factories.(posted 11/5/12,permalink)
Car Sightings:Last week, I spotted a new-looking 1952 Ford Mainline Ranch Wagon in Sungate Ivory. This was the first year of Fords all new bodystyle. This entry-level two-door station wagon was probably intended for duties on the ranch but mostly ended up parked under the carports of postwar ranch houses.
I didnt see any V8 markings, so I assumed that this example was powered by Fords all-new 101-hp overhead-valve straight six. It had business-like blackwall tires and small hubcaps.

Ford made over 32,500 Ranch Wagons in 52; this is one of few survivors. Most remaining Ford station wagons are the pricier, top-of-the line, fake-wood-sided Country Squire models. The original base list price for the lowly Ranch Wagon was $1,832 – 16% less than the tony Country Squire. Only 5,426 examples of the wood-sided line-topper were sold during the 52 model year.
While on the same road, I spotted a navy blue Chevrolet Volt. I couldnt see if it had government plates – Im told that most Volts do. For the second time that week, I saw a 1951 or 52 two-tone blue GMC pickup truck following me into a restaurant parking lot. The old gray-haired guy must be on the same food tour as I am.
In the same parking lot, I got a good look at a new silver Cadillac CTS coupe parked next to my Lexus. Its cool-looking in a concept car kinda way but the pointed rear bumpers seemed to be begging for a big center dent in a parking mishap. The styling of the car was fierce and pointy – not my cuppa tea. But it did have the traditional Caddy styling cues – big gridded grille, knife-like vertical taillamps and swoopy-coupey lines.(posted 10/29/12,permalink)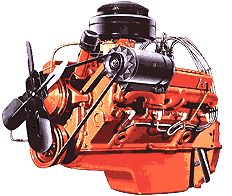 The term small-block came into being when Chevrolet debuted its first modern V-8 engine in 1955. The term came from the fact that the displacement of the compact new engine was 265 cubic inches, not much larger than the six-cylinder engines of the period.
The 1954 Chevrolet inline six displaced 235 cubic inches.
Todays engines are smaller displacement – most V-6s are in the 3 to 3.5 liter range – 180 to 210 cubic inches. Two-liter four cylinder engines are not uncommon common on todays cars.
It was recently announced that the 2014 Corvettewill be powered by a 6.2 liter small block V-8. Thats 378 cubic-inches of displacement and not small in my book.
Preliminary numbers suggest no less than 450 horsepower and 450 pound-feet of torque for the not-so-small Corvette V-8.(posted 10/29/12,permalink)
Book Review:Engines Of Change: A History of the American Dream in Fifteen Carsby Paul Ingrassia
The book purports to offer a wondrous epic in fifteen automobiles, according to the jacket, including the Ford Model T, LaSalle, 1953 Corvette, VW Beetle, Chevrolet Corvair, Pontiac GTO, Honda Accord, Toyota Prius and others. The author connects various car models to societys cultural shifts.
Remember in Animal House when John Bluto Blutarsky gave a rousing, if inaccurate speech? (Was it over when the Germans bombed Pearl Harbor? No!) Frat brother Boon waves away the historical error, noting Forget it, hes rolling. Soon, the whole Delta House is yelling, Lets do it! Lets do it! Ingrassias book begets the same kind of Blutoesque enthusiasm, despite its many inaccuracies … (more )
What We Need Today …is the device advertised in theOctober 1957 issue ofRoad & Track:

In this era of four buck per gallon gas, we could all use one. Do they make these for other cars too? How about Lexus? Or Toyota?(posted 9/10/12,permalink)
Striking Model:In the most recent issue ofModel Auto Review, a British scale model car magazine, there was a brief description and a small black & white photo of an interesting-looking, pricey and rare 1:43 scale model by Ukrainian modelmaker EMC Models.
The model was of a 1935 Mercedes 540K Sports Cabriolet with custom coachwork by the German firm Erdmann & Rossi. The car was originally owned by King Ghazi of Iraq. The full-sized car is quite striking with pontoon fenders somewhatreminiscent of the work done by Figoni & Fallaciduring the same period.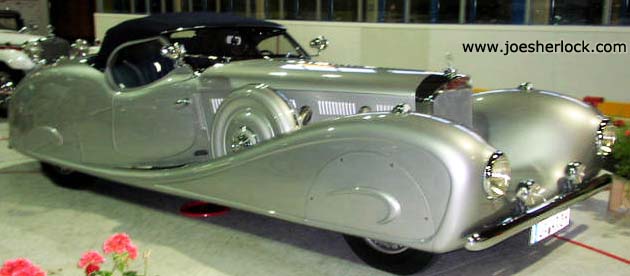 Ghazi was quite the car enthusiast and was killed in 1939 at age twenty-seven when his sports car crashed into … (more )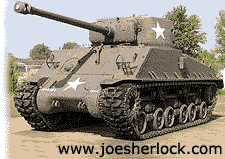 You can tell its a slow auto news month whenMurilee Martin asks, What car would you drive in the Year of Your Birth Rally?
This is a very ageist contest. Young uns get to pick later model vehicles, which gives them an advantage in acceleration and handling.
I dont have a lot of choices and they werent making cars the year I was born.
So, I guess Ill have to choose a 1943 M-4 Sherman Tank with standard rotating turret and 75mm gun.
Hey, rally boy, try to get ahead of me and -Boom!- youre dead. Then flattened.(posted 8/15/12,permalink)
I Wasted 13 Minutes Of My Life:Comedians in Cars Getting Coffeewith Jerry Seinfeld and Larry David was totally boring. Ive had funnier unscripted conversations with my own friends. Especially when we are drinking. I guess we should have videotaped them. The 1952 Volkswagen Beetle was the only thing cool about the show.
Big Fur Hatwrote, What a pantload this was. … You heard of the show about nothing? This was 2 guys laughing at themselves about nothing. If the series is going to be more of this self-indulgent unfunny, unfresh banter, with the inappropriate lounge music playing incessantly in the background, Ill pass. These 13 minutes were probably culled from hours of footage, andthisis what they got? Thats frightening.(posted 7/27/12,permalink)
A True Artist Can Work In Any Medium: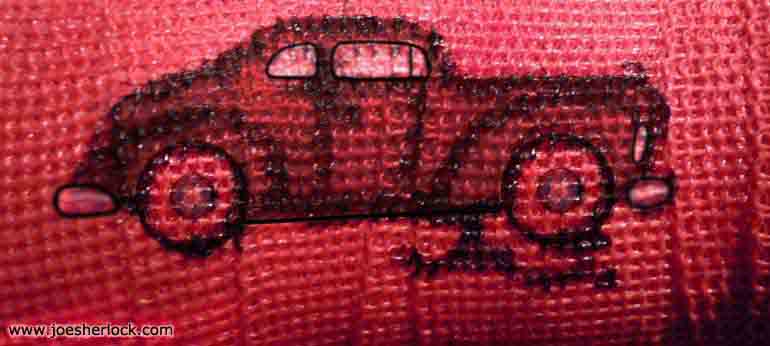 Like drawing an old coupe on my son-in-laws cast.(posted 7/6/12,permalink)
Every Gay Florist Will Want One:Mini will begin selling theClubvan, a nostalgic kind-of panel truckthis August.
Prius missed the boat, when they failed to offer a panel version of the Prius v, something I had … (more )
Best-Looking American Production Cars:Beauty is, of course, in the eye of the beholder. That qualification aside, I hereby announce my choices for the ten best-looking American production (no concepts, no one-offs, no customs) cars (no trucks or SUVs) ever manufactured … (more )
Goin Topless:I went to lunch atJulies Cottage Kitchenwith my friend Steve last week. He drove in his Mercedes CLK550 Grand Edition convertible with the top down. It was a gorgeous, sunny day and it was fun to ride in a convertible. I dont think Ive done that since renting a Mustang in Florida 20 or so years ago.
Ive posted a photo of Steves cool ridehere.(posted 6/25/12,permalink)
I Am Not A Studebaker:I just received an e-mail from my high school,St. Joes Prep, inviting me to the Prep at the Shore Day in Strathmere NJ (between Ocean City and Sea Isle City).
It is for alums from the class of 1962 or earlier – described as Golden Hawks. Apparently its because the school mascot is now a hawk. In my day, it was a hawklet but I guess that didnt sound grown-up enough. And Geezer Hawklet would be an oxymoron.

Im not sure Im happy being referred to as a Golden Hawk. Thats a kind of Studebaker – a long-dead brand. Im not ready to be dead.(posted 6/21/12,permalink)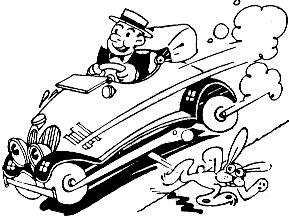 blog almost every day and am amazed at the prices for old iron.
One seller is asking $58,000 for a black 62 Chrysler 300H hardtop coupe. How about $194,500 for a 1956 Austin Healey 100M? Or $149K for a 48 Mercury woodie? How about a 1956 Chevrolet Suburban for $62,500?
A 1965 Plymouth Satellite is offered at $48,900. A 1971 Dodge Charger R/T is for sale with an asking price of $84,999.
A1938 Lincoln Zephyrthree-window coupe wassold for $330,000by RM Auctions. At the recent auction, a 1939 Lincoln-Zephyr Convertible Coupe was sold for $269,500.
In the woodie department, a 1947 Ford Super Deluxe Sportsman Convertible went under the hammer for $253,000; a 1939 Ford Deluxe Station Wagon fetched $247,500; a 1938 Ford Deluxe Station Wagon sold for $209,000 and a 1940 Ford Deluxe Station Wagon went for $203,500.
Somebodys got money in this lousy economy.(posted 6/15/12,permalink)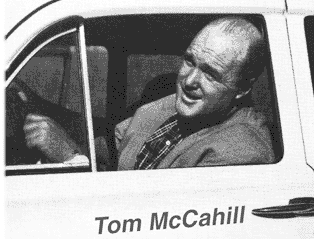 Ive profiled numerous people in the past but how could I have forgotten to write about Tom McCahill?
McCahill was best known as he man who tested cars forMechanix Illustratedmagazine. Everybody called him Uncle Tom or Unk – probably because he was the kind of uncle everybody wished for. He was a no-nonsense guy who loved cars, dogs, driving fast and imbibing a couple of scotches at the end of the day.
Born in 1907, Thomas Jay McCahill III was the grandson of a wealthy attorney in Larchmont, NY. His father was manager of the local Mercedes branch, so Tom was exposed to interesting cars early in life. At age 14, he was given an old Winton tourer. After rebuilding the car, he promptly crashed into a tree.
McCahill graduated from Yale University with a degree in fine arts. He became a salesman for Marmon automobiles and, in the mid-1930s, operated dealerships in Manhattan and Palm Beach, featuring Rolls Royce and other luxury cars. The depression and his fathers alcoholism wiped out his familys fortune and his automobile shops.
Tom then took up freelance writing, turning out fiction and articles forYachting, Popular ScienceandReaders Digestbefore deciding to concentrate on automotive journalism.
The first published road test in America was … (more )
Helping Our Balance Of Trade:In this weeks episode, Dennis Gages My Classic Car visited the Nostalgia Festival in Ronneby, Sweden. There were over 1,000 old cars on display, including a surprising amount of 1950s American iron.
Gran Ambell, senior editor ofNostalgiamagazine, told Dennis that Swedish auto enthusiasts import 5-6,000 old cars from the U.S. each year.(posted 5/21/12,permalink)
Back To The Fifties:James Lileks latestfull-color Bleat headeriswaaaycool. It really appealed to this old car guy. (Thats old in the sense of both the age of the vehicles and my age.

I see a 57 DeSoto sedan with a low-number license plate, indicating either a politicians car (mayor, governor, congressperson) or a vanity plate. Next to it is a 56 Chevy. Opposite is a 56 Buick four-door hardtop. The car nearest the windows is either a Rolls Royce Silver Cloud or its Bentley S1 clone. Its probably a Rolls which outsold Bentley in America by many furlongs in those days. But even a Rolls was a rare sight in 1950s America which makes the photo particularly unusual.
Given the palm tree, the white brick, white awnings and the license plates from several states, I guessed that it was Florida in the winter. James confirmed that it was from an old motel postcard from The Sunshine State.(posted 5/18/12,permalink)
Micra With A Touch Of Curry:The Nissan Micra is a sub-subcompact car which is not imported to the U.S. but is popular in Europe.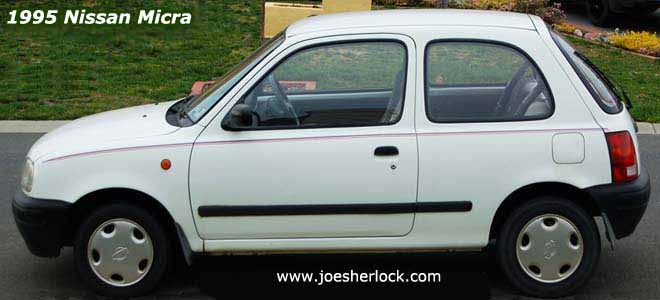 In 1995, during a trip to Great Britain (including a pilgrimage to the famous, must-seeBeaulieu Motoring Museum), we rented a white Nissan Micra. It was a pleasant little car but was incredibly small. Inside – tight quarters. I felt that the car and I wereone- like wearing a suit of armor. (And it was probably about as safe as one in any kind of crash … not very.)
The Micra didnt have a lot of power; it was equipped with a briefcase-sized, one-liter engine, although the 5-speed manual provided surprisingly decent acceleration. Over a two-week period, the eleven-foot long Micra got 56 mpg. The one we drove was made in Nissans Sunderland plant in the U.K.
Nissan now imports the Micra for Europe fromIndia, where labor costs and parts costs are significantly lower than in Europe sufficient to more than compensate for the EU tariff and shipping costs.(posted 5/8/12,permalink)
Bad Sound:Jeremy Clarkson ofTop Gearhas claimed that the new Maserati SUV, the Kubang, is named after the noise it will make once the warranty expires.(posted 4/27/12,permalink)
Car Sighting:On Saturday, my brother snapped a photo of a McLaren MP4-12C parked in front of the Four Seasons in Boston. The $231,000 592 horsepower supercar had Pennsylvania plates and a license plate frame from a dealer in Doylestown

Hes one-up on me; Ive never seen a McLaren MP4-12C in person. He also took a picture of another vehicle Ive yet to see personally – the new L.L. Bean Bootmobile which was displayed on the Boston Common the same day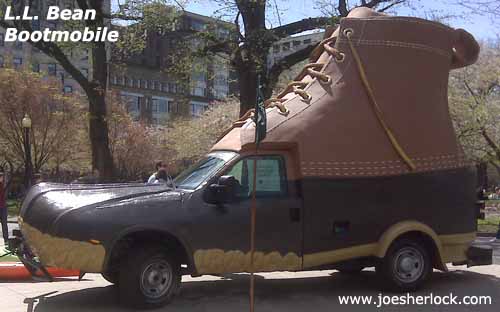 The vehicle, based on a Ford F-250 Super Duty, is seven-feet shorter than the Oscar Meyer Wienermobile. If it were a real Bean duck boot, it would fit a 147-foot tall person. The Bootmobile was constructed to celebrate L.L. Beans 100th anniversary.
Its not the only shoe-based vehicle on the planet. For instance, I spotted a red shoe car during the 2002Great California Adventure.(posted 4/17/12,permalink)
Elvis Presley & His Continental Mark II:Lets start by straightening out the common misconception that Elvis Presley was a Cadillac man who painted his cars garish colors and customized them wildly, demonstrating (say his critics) a lack of taste and refinement.
The reality is that Elvis taste was bipolar – sometimes conservative, sometimes all flash. His home, Graceland, is a stately dwelling; Elvis bought it in 1957 and left the exterior tastefully unchanged.
Inside, some rooms are quite nicely decorated; others look like theyve been furnished entirely with merchandise from roadside stands.The stairwell to the basement recreation rooms features mirrored ceilings and carpeted walls.
Elvis had a flashy, purple and white, customized 56 Caddy convertible and commissioned George Barris to make a vulgar gold and white 1960 Cadillac 75 Series custom limousine.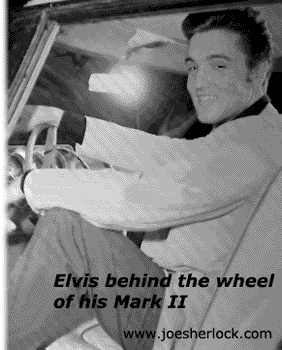 Yet Elvis also owned a black Rolls Royce Silver Cloud, a Mercedes 600 limousine and other expensive, conservative vehicles which would look righ