We are constantly adding new items to the website. Here you can view all products with the newest ones first.
Product Categories MenuAll Awards Trophies and moreAward Medals and RibbonsCustom Dog Tags
4.8 out of 5 stars, based on 13 total verified purchase reviews

If you select yes for a proof, you will receive an email with a .pdf file attachment showing your layout design for this item. The proof will typically be sent in 1-2 business days after the order is placed. You will be required to reply to the proof email and either approve or request changes.Please provide as much info as possible so we can get you the desired layout on the first try.Its important to note that the proof process will likely add additional time to your order process. Be sure you are receiving our emails and check any spam/junk folders if you are having problems.
NOTE – If we do not get a response to your proof email after several attempts to contact you we may proceed without approval, or cancel the order.Special terms and conditions apply to orders with a proof request and you can read that by visiting the following page.Click here to go to the Terms and Conditions page
Please read all information below regarding this product.
Overall size – 1 1/8 x 1 7/8
Tags are manufactured from 0.040 White coated aluminum .
These are produced using our vibrant full color sublimation process.
Optional 30 inch chain available (+$0.80ea.) -(made from nickle plated iron – diameter of balls on chain are 2.5mm or .1004 inches)
Each side of the tag can be the same or different and can contain any of the following image/logo/photo/text.
No per color charge!(Full color dark backgrounds may result in additional charges)
No Minimum quantity! (Order just one, its ok with us)
Please contact us with any questions or assistance ordering this product.
1.Tell us about side one and side two of your tag(s). (See additional info below)
2.Select the option for 30 inch neck chain. ($0.80 cents per unit upcharge applies)
3.Let us know if you would like an email proof before we produce your tag(s)
4.Load your shopping cart and complete the purchase.
5.Upload any artwork or text you require (You will be presented with an upload option after you complete the order)
Please enter an much info possible in the side1 / side 2 space provided to let us know about your tags.
Examples include Please see uploaded photo – place photo vertical or Logo to be provided – placed landscape
or, if you would like us to design something, you could put something like red background with baseball image.
A common design is a photo one one side with text on the other describing the photo, or the player name/number or team/season info.
If you would like both sides of the tag the same, you can also indicate that in this area.
Uploading Files – If you are uploading a file, here are some helpful tips.
We accept the following text and image file types.
Acceptable image and text file types include .txt .doc .docx .jpg .png .gif .pdf
Filenames cannot contain any punctuation such as apostrophes.
Please note – the upload link will not be shown until you complete the order. After payment you will see the link on the thank you page where your receipt is shown.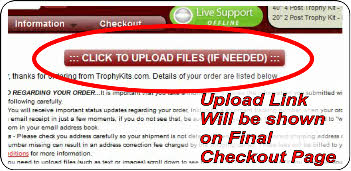 13Customer Product Reviews – Average rating4.8/ 5(Show All)
Click to leave your review of this product

The tag was exactly what I wanted, their customer service is excellent.

Trophy kits has never made a single mistake despite my requiring a lot of information on the items. And they are FAST!

I purchased the double-sided dog tags because I was not satisfied with the legibility of the engraved dog tags I have.
The tags are white with large black print. You can very easily read them.
VERY SATISFIED. Will be ordering more.

Bought new Dog Tags for the runaway Husky I have and they look Great! Personalized to perfection! Great Job!

Excellent. Nothing need be said more.
Click to leave your review of this product
Customers who purchased this item also purchased…

Custom Metal Name Plates Sublimated
To offer high quality Awards at the best
possible price, while maintaining a superior level of

Paypal and Major Credit cards accepted
©2018 All Rights Reserved Design byDMM.
:::ALERT POTENTIAL DELAY:::Current proof workload addsdaysto your expected delivery dates that will show during checkout.Please note – proofs are manually ceated by our grapics team and sent as a .pdf attachment to your email inbox.Proof emails are usually sent within 1-2 business days of placing your order.You will need to reply to let us know the layout is acceptable.Delays on orders with proof request can occur due to many factors,including current workload, delayed response from the customer, numerous change requests, and more.If you are concerned with basic things like will they center my text? or if I only use one line of text, will they make it larger?Rest assured that we always center your text and make it fit appropriately. 98% of proofs are approved on the first design.If you have a specific layout request, or a complicated design, its best to request a proof.If your order is urgent, there are rush production options shown during checkout and will speed up your order.This message should only appear once.