are an affordable and economical solution for schools, high schools, colleges, universities and businesses that are used for car parking passes to control security for on-premises parking lots.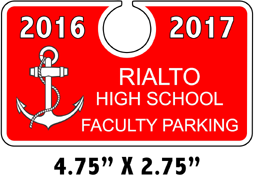 are easily recognized by security personnel. Automobiles or vehicles without the proper vehicle parking hang tags can be easily spotted for additional security screening to head off security problems before they occur.
Thesemirror hang tagsare made from 23 mil thick plastic for durability and long life. Our parking permit ID car hang tags are ideal for student, teacher, and faculty parking lots, as well as office building parking structures, residential lots, retail parking spaces, sporting and event parking locations.
The convenient size of ourcustom hang tagsallows them to be displayed on the back of the rearview mirror without blocking the drivers vision of the road in front of them. All of our car hang tags and car pool hang tags are custom printed with your school or company information and custom full color UV resistant ink colors. We can incorporate your school or company logo, or select from over 4,000 logos and mascots that we have on file.
Custom hanging permit tagsfrom have superior quality and low prices for all types of vehicle hanger tags for automotive applications such as student parking tags, teacher parking permits and employee rear view mirror hangers.
If you would like to see what your customized parking lot ID tags might look like,request a Free Design Samplefrom our dedicated design team.
Larger format hang tags (3.25 x 7.75) are also available forcar rider passesor parking permits
FEATURES OF OUR CUSTOM PARKING PERMIT HANG TAGS
Hang tags are made of durable plastic 23 mil in thickness.
Printed with UV Resistant Ink for durability and long-life.
Choose 1 color print or full color custom hang tag for the same price.
Choose from over 4000 logos or use your own.
Consecutive numbering on hang tag permits No extra charge.
Call now 1- So we can meet your new school year deadline.