McLoone is proud to announce being certified byBSI. The decision to becomeISO 9001:2015certified is a proactive one that not only anticipates the demands of its customers, but also demonstrates the commitment to providing quality products and services. With goals focused on the emphasis of service, quality assurance and innovative products, we look forward to bringing the business to new heights.
The manufacturing sectors have shown some growth over the past few years. Since 2011, the sector has created jobs every
year. A new reportfrom consulting firmHeadlight Datashowed that the industry has created nearly 500,000 new jobs in the last 6 years. This number should, however, be put in perspective, since the sector has lost 5 million jobs since 2000.
Within the sector, one of the brightest spots has been the automotive sector. The automotive sector has seen a lot of improvement since the recession in 2008.
McLoone Metal Graphics is pleased to announce that Deidre Kruser has joined the organization as President. Kruser is a seasoned executive with more than 25 years of leadership experience in design, marketing, sales and development of strategy within the industry. In this role, she will work to support the companys continued growth and development. Most recently, Deidre was the Global Director of Marketing and Design for NBHX Trim Group.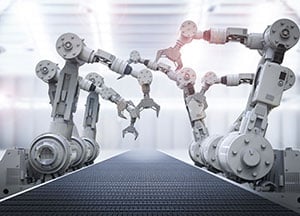 Change can be scary, but we should not fear automation. With automated processes advancing, we will need more talented workers – even with more robots on the factory floor.
Youve probably heard a lot about how automation is a job killer. But the robots arent actually to blame.
Many people believe that robots will wipe out middle class factory jobs, but this is not necessarily the case.
Automation did replace approximately 670,000 jobs in the United States between 1990 and 2007.
Imports from China have cost us exponentially more work: 2.6 million jobs between 2001 and 2007 alone.
The Great Recession of 2008 crippled U.S. economic activity for years. Manufacturing is one of the very few industries that has yet to make a full jobs recovery, adding back a little more than 1 million of the 2.3 million jobs lost during the recession.
0 CommentsClick here to read/write comments
Tradespeople are needed in the trade industry
The United States has 30 million jobs that pay an average of $55,000 per year and dont require a bachelors degree,according to the Georgetown center. So why is there ashortage of tradespeople?
10 reasons why there is a shortage of tradespeople in the US:
Trade skills have fallen short with the current and incoming generation of the workforce
High schools and colleges have been pushing bachelor degrees for the last couple of decades
All the hype for a bachelors degree has given vocational schools a bad reputation
0 CommentsClick here to read/write comments
Most workplaces, especially commercial and industrial ones, contain risks of some degree. There are the direct costs associated with the workplace accident. Such as the employees compensation for the injury, their insurance, etc. There are also indirect costs (explained below) that most employers do not think about. The combination of indirect and direct costs can be detrimental to a company. This is why promoting workplace safety is so important. Promote workplace safety by ensuring employees know what the hazards are.
Every company has to interact with prospects, customers, and business partners daily. Making these interactions worthwhile can be challenging. People are bombarded by advertisements, sales people, products and services, every day. This can make it difficult for your business to stand out from your competitors.
The United States is known for its manufacturing industry. Our lives have been built around this robust market. Everyday, we encounter hundreds of items that are a result of manufacturing. According toFora Financial, the manufacturing industry accounts for 12% of our economy.
Small manufacturing iscropping upin cities around the U.S., catering to you a younger generation of consumers who are more concerned with quality, ethics and local production than they are with cost, said BBC news.
Mcloone boosts competitiveness in short and mid-run self-adhesive label markets with SPGPrints DSI® digital UV-inkjet printer
Our blog offerscurrentandrelevantinformation regarding a vast array of industrial topics.
These topics include manufacturing, nameplates, labels, printing, doming, and much more.
Based in La Crosse, WI, Mcloone (aka Mcloone Metal Graphics) is a manufacturer of custom decals, custom nameplates and pressure sensitive labels. Founded in 1954 by James E. Mcloone, we are now recognized as one of the worlds leading providers of high-quality identification graphics.
Mcloone is a business of JSJ of Grand Haven, Michigan, U.S., a privately held corporation that actively designs, develops, markets and brands a group of durable goods and services throughout the world.
Our specialties include metal labels and nameplates, vinyl decals, self-adhesive vinyl labels, doming, asset tags, metal signs and polycarbonate identification graphics. Materials available for your identification labels include aluminum, stainless steel, vinyls, foils, polycarbonates, polyesters and many more.
All this and great customer service means that Mcloone is there when customers need us the most. Artwork services, in-house tooling, fast turnaround time and a dedicated staff all result in a stress-free customer experience. With Mcloones guidance, customers identification products arrive as designed and on time.
© Copyright 2017 McLoone Metal Graphics, Inc. All Rights Reserved. Email:
Custom WordPress Theme and CMS by Sleeping Giant Studios