Mercury free doming material / EU 2018/852 compliant
Our mercury free range is compliant with the latest regulation 2018/852 which will completely prohibit the use of mercury in polyurethane doming resins, starting January 2018.
Our clear, weather resistant and non-yellowing mercury free automotive grade doming resin has been used for over 20 years.
Very important too, many of our mercury free materials need neither degassing nor ovening (they cure at room temperature); sothere is no need for additional equipment when switching to our mercury free material!
@ Kimjaya we are The Doming Material Specialists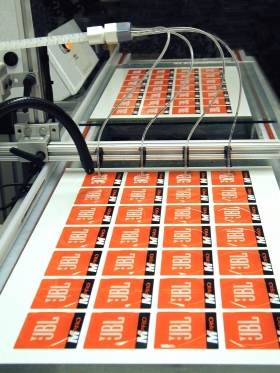 Kimjaya B.V. introduces the mercury free crystal-clear doming materials manufactured by Development Associates Inc..
A premier polyurethane doming resin manufacturer in North America, they have been manufacturing clear, weather resistant, two-part polyurethane resins for over 30 years.
Their mercury free automotive grade, clear, weather resistant and non-yellowing doming resin has been used for over 20 years.
The combined experiences of Development Associates Inc. and Kimjaya B.V. provide customers on International markets with the knowledge, tools and technique required for a successful mercury free operation.
TheUltra Maxis an economically priced entry level Two-part encapsulating casting machine. It utilizes in-drum pump technology with PLC drivers to provide consistent, reliable, metered casting. For a small investment, you receive large benefits including consistent, repeatable, measured dispensing amounts, reliable operation with very little maintenance. This Two part encapsulating machine features a pistol grip gun and can be set up to use our disposable multi nozzles. This Two part encapsulating machine can dispense from one 3.8 litre cans or 19 litre cans.
TheMicro MaxCasting Station is the turn-key solution for doming. The Micro Max utilizes a DC motor, digital read controller, positive displacement pumps and our unique bags to hold the resin. The Micro Max clear resin casting Machine includes a heating chamber that holds 42 40.64 cm X 60.96 cm (16 X 24) trays as well as a kick out bench top work area. Within hours of the Micro Max being delivered our customers are dispensing bubble free, consistent shots of resin.
TheAuto Xclear resin casting machine utilizes our in-drum pump technology and a conveyor system to provide our customers with a mass production work flow. Our motion control software coordinates the movement of the conveyor with the dispensing of resin to give you an automated, efficient casting experience. Typical 40.64 cm X 60.96 cm (16 X 24) trays with an array of 100 parts will be cast in less than 1 minute. The in-drum pumps enable you to pump directly from the drum and the multi-nozzles are simply thrown away when the dispensing is complete illuminating the need to flush with solvent.
TheAuto XYmachine utilizes the same in-drum pumping system and same conveyor system as the Auto X machine for maximum production. Upgrading this with a Y axis and custom motion control software provides you with full automated scripting doming system ability. The Auto XY is easy to program and can utilize our disposable multi-nozzles for production work. The programming is easy and takes just a few minutes to map out the path you want the scripting to travel. The program is easy to edit with completely variable pump speeds, conveyor speed and dispensing amounts throughout the routine.
Of course, Ultra Max, Micro Max, Auto X and Auto XY dispensers comply with CE marking regulations.
Sunset Oil Services and Logistics (Pty)Ltd
Blog Dinomar Miranda Prefeitura de São Domingos (GO) conquisto Certificadde RegularidaPrevinciria
23 Août 1791 Rvolte des esclav Saint-Domingue (Haïti) unRemmoration dunluttpour la libert
Clnicas Dr Domingos Silva Medicina Chesa
The more promotions gifts areCustom WristbandsSilicone Bracelets in UKcustom bracelets Canada