Looking for more apparel decorated with rhinestones? Our rhinestone Hoodies and sweats are a great match to a sparkling rhinestone T-shirt. Choose from our designs below with a fleur de lis Hoodie, initial Hoodie or create your own fullycustom Hoodiesorcustom sweat pantswith any lettering or design you desire
Bride Hoodie with large script letters on back of soft, fleece-lined Hoodie.
Dazzling cross on the back of a Hoodie.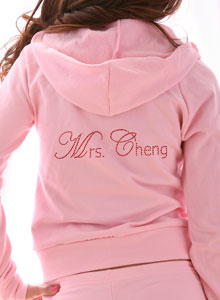 Rhinestone Mrs Hoodie Sweatshirt in Edwardian Script style of font.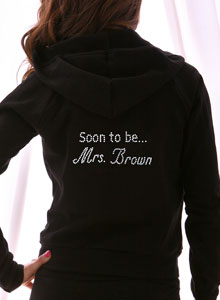 Personalized bridal Hoodies with the brides name in rhinestones.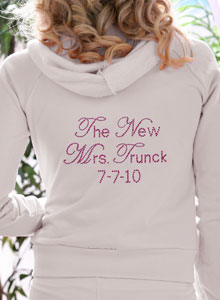 The New Mrs Hoodie. Personalize with your name in rhinestones.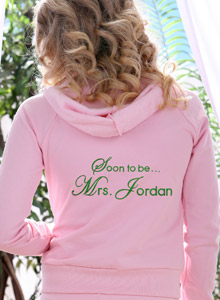 Fleece-lined Hoodies with Personalized Soon to be Mrs embroidered on back.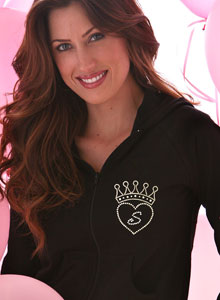 Sparkling rhinestones make this heart and crown glam. Personalize with initial.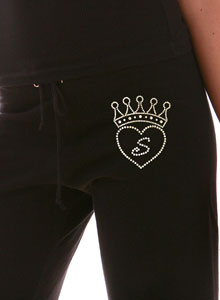 Rhinestones form a heart with crown make it a bridal sweat suit combination.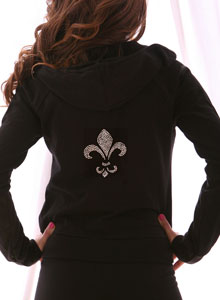 Filled rhinestones for the traditional Fleur de Lis design.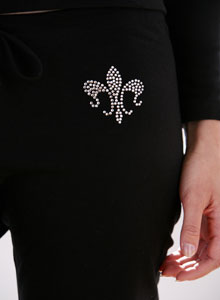 A smaller Fleur de Lis on 100% cotton sweat pants.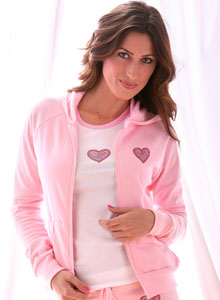 A classic filled heart in rhinestones. For your wedding day, or any day.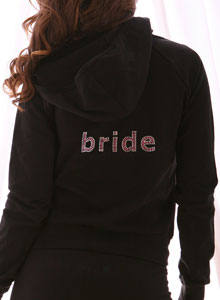 This is the Hoodie worn by Bethenny Frankel on Bethenny Getting Married.
Match any Hoodie with sweat pants adorned with a rhinestone initial.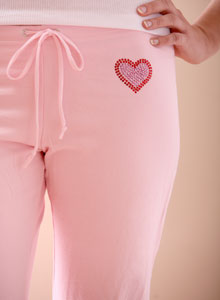 A filled heart for your sweat pants, a great complement to any bride shirt.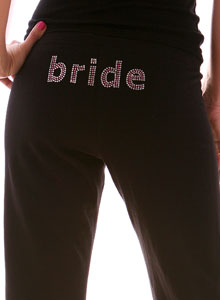 The bride sweat pants worn by Bethenny Frankel on her Bravo TV show.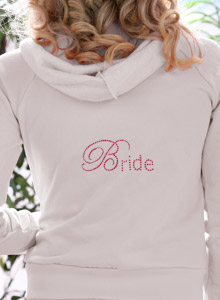 Bride in rhinestones in Edwardian style font.
Embroidered bride Hoodie, sizes from Small to Plus Size Hoodies.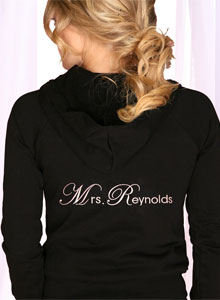 Custom Bridal Hoodie with your future name, in colors including white.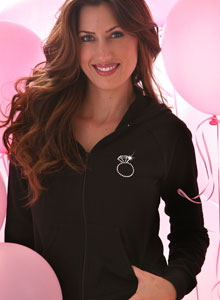 Dazzling ring in sparkling rhinestones, match with sweat pants for wedding outfit.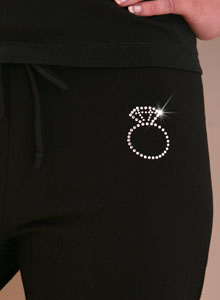 Rhinestone ring on sweat pants, makes a great wedding sweat suit set.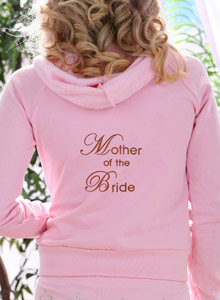 Embroidered Mother of Bride / Groom Hoodie
Embroidered Mother of the Bride Hoodie. The type style matches the Bride Hoodie.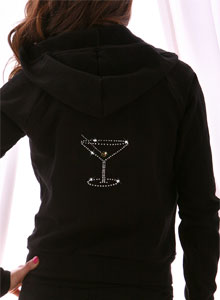 A brilliant martini in rhinestone crystals on the back of a Hoodie.
Custom Bridal Hoodie with your future name. Many color choices including white, black and pink.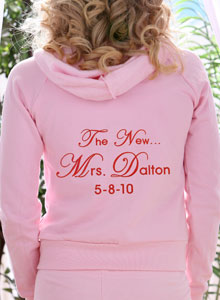 Personalize The New Mrs Hoodie with Married Name and Optional Date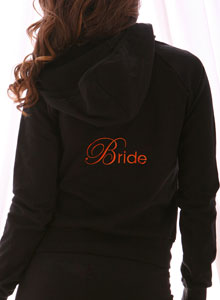 Bride Hoodie with the word Bride in a fancy type style.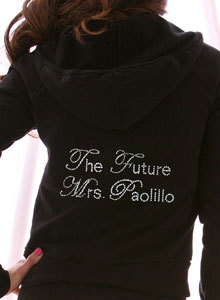 Dazzling rhinestones make The Future Mrs. Hoodie a great wedding sweat suit.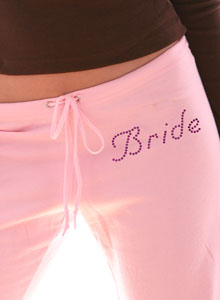 Fleece-lined sweat pants with Bride in dazzling crystals.
Bling out Hoodies and sweat pants for a great gift or for your own celebration. Mix and match to make your perfect sweat suit our most popular Hoodies sets include thediamond ring Hoodie,soon to be Mrs. Hoodies, and special personalized Hoodies with names.
Rhinestone Bride Hoodies,Bride Hoodie,Bridesmaid Hoodie,Mrs Hoodie,Custom Hoodies,Custom Sweat Pants,Bachelorette Hoodies,Soon to be Clothing,Custom Rhinestone Transfers
Your email address will not be published.Required fields are marked*
Personalized-Wedding-Hoodie-Sweat-Suit-Bride-Couture
Bride Jacket Bridal Sweatsuits Just Mared Hoodies and Sweaal HoodiePersonizeTracksui
Doming Label.The more promotions gifts areSilicone Wristband,Silicone Bracelets UK,custom bracelets