My Vegan Potato Casserole recipe brings a fresh vegan twist to a classic. It is a full fresh vegetable bake on its own and comes with a savory oil-free sauce that is easy to make. A real highlight of the Vegan Potato Casserole is the crunch on top of it, made from macadamias and gluten free breadcrumbs.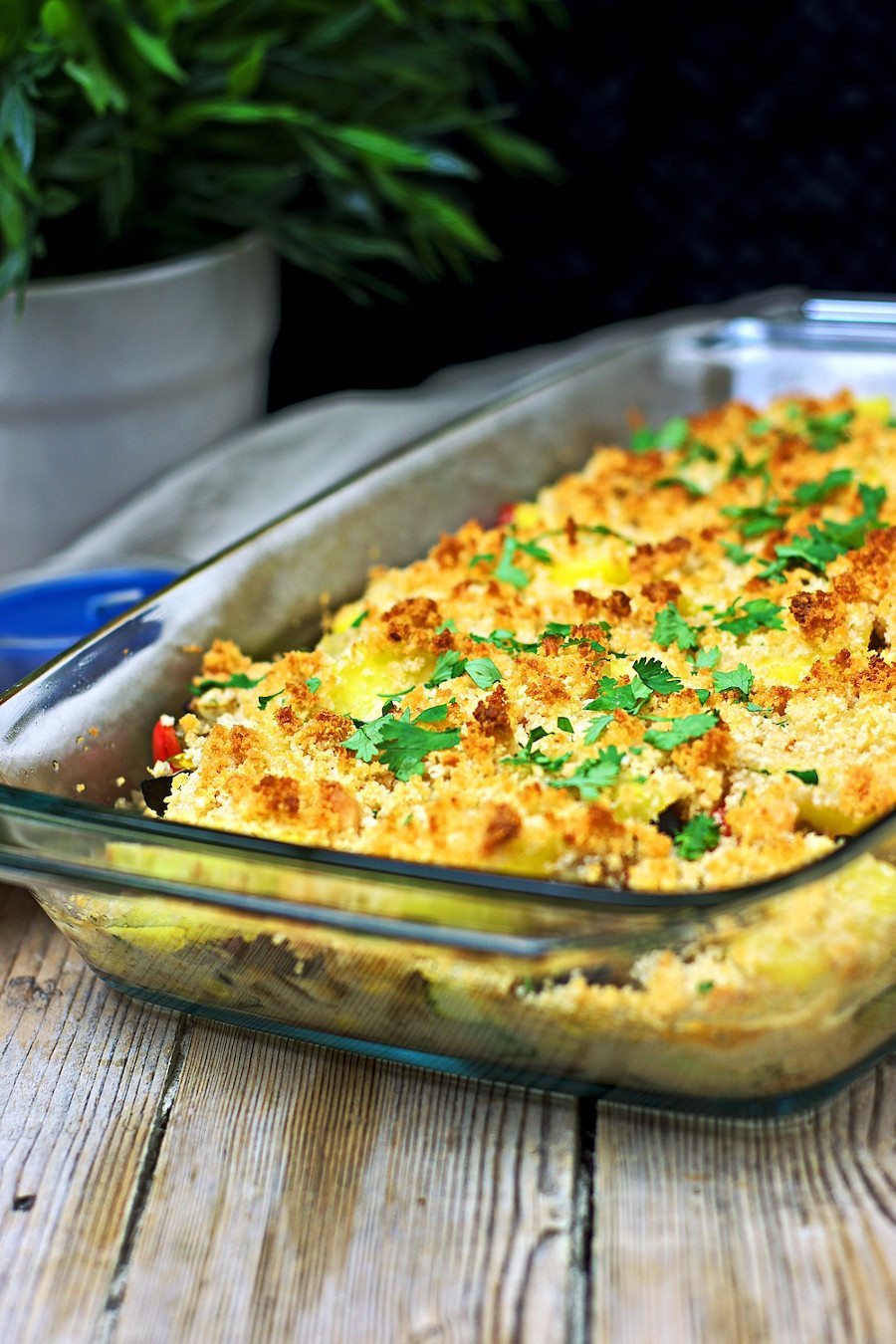 What makes a good meal? Or a better question might be, what is a good meal for a family dinner? You know dinners of the type you will have on a holiday. Sure you want to have some festive touch to it most of the times but is that really what counts?
When I was kid, I often observed my parents or grandparents getting awfully stressed out over holiday food. The impression I got was that unless it took half the day to prepare, the dinner was not adequate for the occasion. Case in point: Christmas dinners.
Now, really? Is it necessary to spend hours in the kitchen to prepare a meal that is being devoured within minutes? Dont get me wrong, I love cooking and good food. But I dont see why it cant be good and take much less effort at the same time.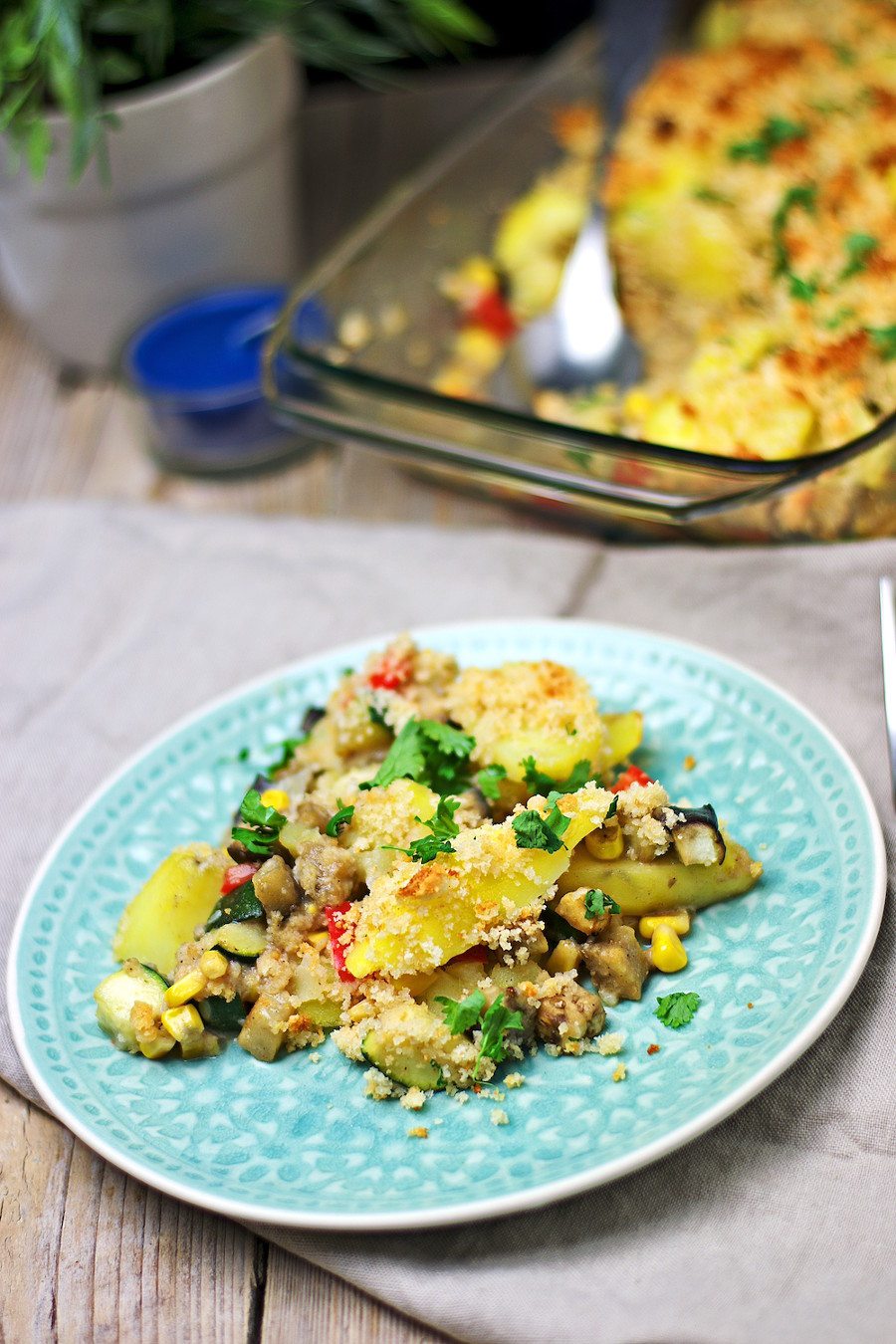 One of the types of dishes that always worked well were casseroles. You can prepare them in advance and done right are incredibly delicious and fit to the occasion.
Potato casseroles seem to be favorites and anticipating that some event will come up sooner rather than later, I began thinking about making an awesome Vegan Potato Casserole.
In some ways, I have been trying to veganize several classical dishes, like myVegan Shepherds Pie,Vegan Hoppin John, orVegan Blueberry Cobbler. (If you havent checked those out, now is the time!) And for this casserole, two things needed to be taken care of: first the sauce, second the crust.
Ive recently experimented with making aVegan Cheese Saucerecipe and considered simply using this. But that seemed a bit too well, cheesy. Its better suited to making MacnCheese I think.
So I created a new easy sauce based on coconut milk, tahini, and potato starch instead of the more traditional flour. A bit of organic vegetable broth gives the sauce the desired consistency.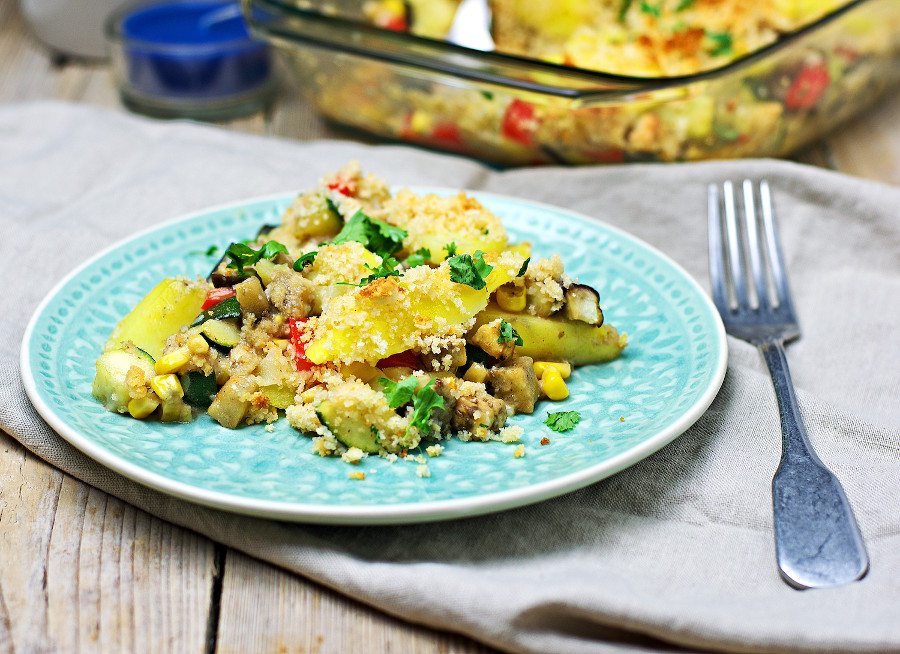 But now for the crust. Something that would be a good substitute for the traditional baked cheese. Sure I could just have grabbed some of the vegan cheeses. But I wanted something more inspiring.
Something with a little crunch and punch. And because I am a nut lover, why not mix some nuts in there?
Which nut should I choose? I was lucky to stumble across this article by Food Matters about 10 Fascinating Health Benefits of Macadamias, some of my most favorite nuts.
Good for your heart, reducing the risks of cancer, strengthening of bones and much more thats a deal.
I combined Macadamia nuts and gluten free breadcrumbs in a blender and processed them until I got a sort of crumble. That would become the crust of my Vegan Potato Casserole.
When I made this casserole, I decided to pre-cook the potatoes and pre-roast the vegetables (bell pepper, zucchini, eggplant). I think that is not strictly necessary, if you dont want to do that.
Id then suggest to make the sauce a bit more liquid and double the baking time. But then you should better slice the potatoes very thin. I didnt mind the extra steps because they are super easy.
I made layers of vegetables and potatoes, and after filling in the sauce topped it off with the Macadamia Crunch.

The Vegan Potato Casserole then bakes for about 20 minutes until the top gets golden-brown.
Then its high time to enjoy this meal. It can go perfectly on its own or as a side dish. So easily done and almost no hassle. Im all into this, are you too?
Let me know down in the comments section, onFacebook,Instagram, orPinterest. Love to hear from you! Cheers, Florian.
My Vegan Potato Casserole recipe brings a fresh vegan twist to a classic. It is a full fresh vegetable bake on its own and comes with a savory oil-free sauce that is easy to make. A real highlight of the Vegan Potato Casserole is the Crunch on top of it, made from macadamias and gluten free breadcrumbs.
Preheat oven to 390F/200C. Peel and cook the potatoes for 10-15 minutes. You only want them just about to be soft. Drain and let cool, then cut into slices.
Wash and cut the vegetables into slices. Line a baking sheet with parchment paper and distribute the slices. Season with a little salt and pepper and pre-roast the veggie in the oven for 10 minutes.
In the meantime, prepare the sauce. Heat coconut milk in a sauce pan, add 2 tsp tahini. Bring slowly to a boil. Prepare the potato starch with a bit of water (see manufacturers instructions) and carefully whisk into the boiling sauce. The sauce should now being to set. If it gets too firm, add vegetable broth until you get the desired consistency. Season with pressed garlic, salt and pepper.
To prepare the Crunchy Macadamia Topping, place bread crumbs and macadamias in a food processor and blend until a crumble forms.
Assemble the potato casserole. Begin with half the vegetables, then half the potatoes. Add about half of the sauce and repeat. Finally top with the Crunchy Macadamia mix. Bake for another 15-20 minutes until the top browns.
Instagram and hashtag itcontentednesscooking
Filed Under:5 Easy Steps or less,All Recipes,Date Night,Dinner,Easy Gluten Free Recipes,Easy Vegan Recipes,Kids-friendly,Lunch,Quick Vegan Recipes,SnackTagged With:eggplant,potatoes,zucchini
What makes a good dinner? Potatoes..hahaha! This is great and I love that mac-crunch!
I like that crunchy looking top! Looks like a great casserole for a pot luck, too.
This sounds delicious! So much better than the butter and cheese loaded potato casseroles that we all know so well. Love that nutty topping too!
Yum! I love the addition of macadamia nuts what a fabulous idea!
Loving all the vegetables and your crumble topping is baked perfectly.
This looks fantastic, great meatless monday dish for us!!
Wow, such an approachable vegan casserole, and much healthier than the typical casserole dish. Love the macadamia nuts!
Now, that is what Im talking about Florian! Potato casserole with all my favorite things! This looks just so darn delicious and easy to make. Your pics are so bright and inviting and I can almost smell the potatoes! Im in such agreement with you too, I dont think meals need to take all day to be delicious, just the opposite in fact. What a fantastic recipe!
This casserole looks delicious! So warming and comforting. I love the sound of the sauce. So many great ingredients! 😀
I love this, you can never go wrong with a pan of amazing potatoes!
I love the idea of this vegan version of potato casserole. Looks so good! Definitely my kind of dish!
This looks delicious with a capital D! Loving the vegan spin on this warm and hearty dish!
So, canned milk -? or coconut milk alternative??
Hi Sue, you can use almond or oat milk, but you will need more potato starch I would say 1 Tbs instead of 1 tsp might work to ticken the sauce.
I am sorry, not sure I totally understood the answer. 1 you can use milk alts but add more thickening. 2. the recipe actually wants you to use canned coconut milk, stirred up or just the heavy fat part? thanks appreciate the answers and the time!!
From my experience, a nut-based milk just needs a bit more starch because it does not thicken as well as the coconut milk (stirred up, not just the heavy part). That is why I mentioned increasing the starch.
This looks absolutely amazing. I totally agree with you about dinner not taking all day. I love to cook too but there are times Id rather spend time with people than my stove. This casserole is the perfect solution.
We just made this casserole! It was excellent. We took out the corn though, and added mushrooms instead of the eggplant. Thanks so much for this!
So amazing @faincut:disqus. Thanks for posting this! Great pics and Im glad that this was such a hit for you. 🙂
This looks and sounds amazing, Florian! I especially like gorgeous macadamia nut topping!
I love this recipe!! So unique using the macadamia nuts in with the breadcrumbs! What a great crisp topping!
This sounds really delicious!! I especially love the sound of the macadamia crumb!! What a brilliant idea 🙂
Your email address will not be published.Required fields are marked*
Rate this recipe
Save my name, email, and website in this browser for the next time I comment.
By using this form you agree with the storage and handling of your data by this website. Check ourPrivacy Policyfor the full details on how we protect and store your submitted data.*
Hi! Im Florian, the guy behind Contentedness Cooking.
Enjoy insanely delicious vegan and gluten free food for everyone. All my recipes need only 6 ingredients and 5 or even less easy steps to make them.
Copyright © Florian Nouh and Contentedness Cooking, 2018. Unauthorized use and/or duplication of this material without express and written permission from this sites author and/or owner is strictly prohibited. Excerpts and links may be used, provided that full and clear credit is given to Florian Nouh and Contentedness Cooking with appropriate and specific direction to the original content. Please read our
to learn what private data we may collect from you, how we use it, and how we protect it. Please also acknowledge our
Terms & Conditions & User Agreement